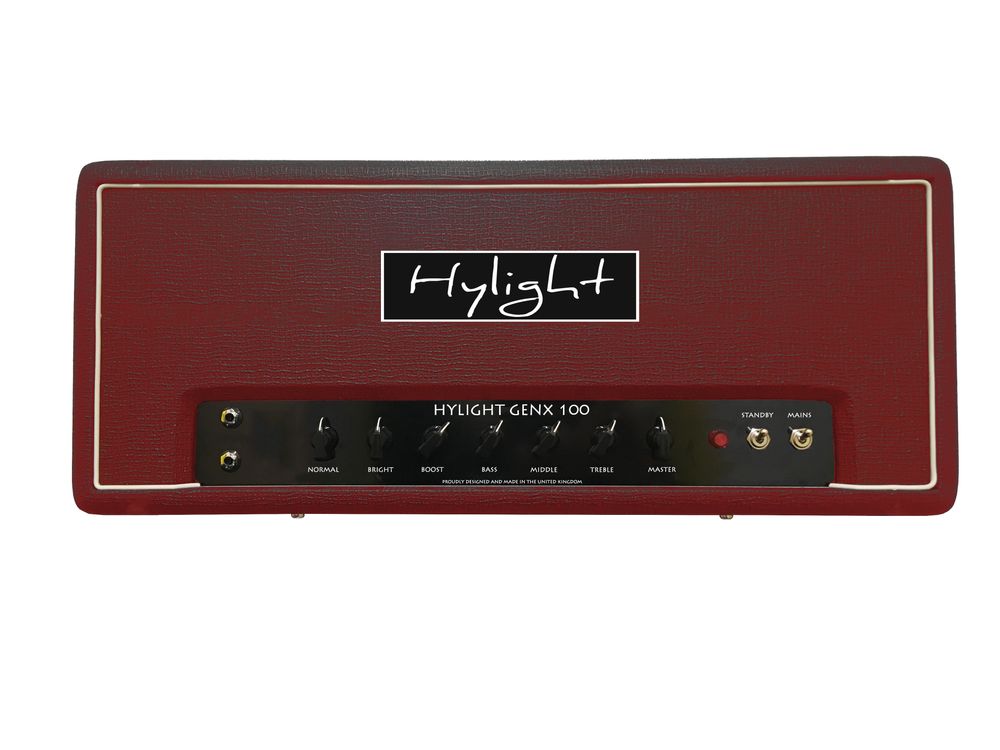 GENX 100H
HYLIGHT Generation X Custom Shop Dual Channel GENX 100H Head 
We have transformed the Holy Grail 100W head into a conqueror to offer guitar players more versatility and a wide tone palette dialed into very few controls, this all point-to-point amp features meticulous original style hand-wiring plus additional hand-wired EFFECTS LOOP, LINE OUT output and power attenuator. This 100 Watt Head is made entirely in the UK with the best available components for those guitar players that want a mixture of pure and classic Hylight sound in a 100W format, along with a foot switchable boost channel.  
The GENX 100H features a pioneering design in response to a high demand for a standard format amplifier with more gain, and incorporates 4 x EL34 valves in the power stage which defines the Holy Grail sound of British Amplification. This is the most sought after Class A/B amp in our Custom Shop range, which produces uneven harmonics, but with a renowned attack and clarity. 
Hylight Electronics made high quality amps during the 60's, along with other well known manufactures of the period, that were largely responsible for shaping the sound of British rock during the 60's, 70's and beyond. Bands such as Pink Floyd, the Moody Blues, the Rolling Stones, and The Who have all used Hylight made amps to help create their legendary sounds. With their military-spec chassis, point-to-point wiring, and marine-grade Hylight cabinets. Hylight made amps are also well known for being very solidly built, and long lasting.

DESCRIPTION 
The GENX 100W Head, like its predecessors, can produce bright clean sounds through blending the Normal & Bright Channels to rich medium, higher gain boost through the 2nd Channel: this amplifier is very special and probably unique in the world! The bass, middle and treble controls offer a wide frequency range that any guitar player would dearly want. The smooth EQ curves are part of a special design-tone network, which is very musical and easy to control. Less is more! High & low sensitivity inputs. Gain & Master volume controls. 4, 8 & 16 Ohm selector for matching to any cabinet. 
It is powered by 4 x EL34 valves in the power stage, with 3 x ECC83 in the preamplifier stage. The GENX 100W head employs the original Partridge designed transformers, 4, 8 & 16 Ohm output impedance and the option to select from 100, 115, 230 and 240 volt sources. The pre-amp has high & low sensitivity inputs. Add your favourite pedals to create your own personalised sound. There is simply no better sounding, looking or engineered 100W head in the world! This amplifier will last a lifetime!

FEATURES 
Front Panel Controls: HIGH INPUT/LOW INPUT, CH1 – NORMAL VOLUME, BRIGHT VOLUME (LINKED), CH2 - BOOST PUSH/PULL (FOOTSWITCHABLE); BASS, MIDDLE, TREBLE, MASTER VOLUME, STANDBY SWITCH, MAINS SWITCH  
Back Panel Features: VOLTAGE SELECTOR, ROTARY POWER ATTENUATOR: 0, -2, -4, -8, -12, -16 db, LOAD; EFFECT LOOP SEND & RETURN, LINE OUT, BOOST FOOTSWITCH INPUT, IMPEDANCE SELECTOR, SPEAKER OUTPUTS
Output Power: 100W. Please note this is an All Purpose (AP) amplifier, which can be used for bass and even keyboards.   
Valves: 4 x EL34's, 3 x ECC83/12AX7's 
Dimensions (Unboxed) L x H x D: 63 x 28 x 28 cm 
Weight (Unboxed): 21 kg 
Colour Options: custom colours are available on request: White, Red, Blue, Union Jack and others. Please contact us for a quote. 
Options (Sold Separately): External Cabinets: VE112F/C - VE212F/C. F=Fane Loaded Cabinet (Fanes are Manufactured in England). C=Celestion Loaded Cabinet.
RRP: £2799.00